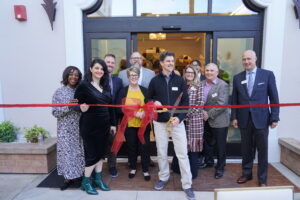 After nearly two years of construction, Beacon Development Group and HumanGood Affordable Housing celebrated the grand reopening of Castle Argyle Apartments in Los Angeles, CA. With construction completed back in May 2022, this 96-unit senior housing community has been redeveloped to be better than ever.
The building renovations included seismic upgrades; new mechanical systems such as two new elevators; new electrical systems and energy upgrades through solar voltaic panels to help offset electricity costs; as well as new plumbing systems. On the interior, the grand lobby was designed to highlight is classic Hollywood style and new offices layouts including space for resident services and a nurse. All unit interiors received new appliances, kitchens, and bathrooms. Each unit also received a central heating and air conditioning system for the first time. Exterior site work upgrades include new drought-tolerant landscaping and concrete/asphalt repaving, exterior building repairs and painting.
The iconic "Castle Argyle" sign that sits atop the building and the historic "Castle Argyle Arms" sign above the entry staircase on Argyle Avenue were also restored to its original neon colors and are fully operational again. Two new murals were also added; one inside the lobby and an external mural on the parking structure wall. The lobby mural provides a decorative and welcoming visual feature for residents and visitors which has a prominent position upon entry. The exterior mural serves not only as a powerful artistic feature enhancing a large concrete wall, but also represents the diverse history of Castle Argyle, its residents and the community. Muralist Roberto Biaggi, an artist based in San Juan, Puerto Rico who has over 125 international installations, developed the final design.
A combination of tax-exempt bonds and low-income housing tax credits was used to fund the rehabilitation of the entire building. The tax credit equity partner and construction lender for the building was U.S. Bank, and permanent financing was provided by Citibank Community Capital. Special thanks are due to the project team of Relativity Architects and Walton Construction, the general contractor.