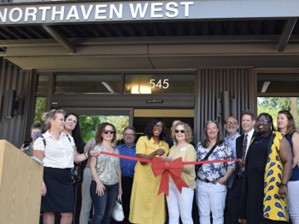 On Saturday, August 6th, staff from HumanGood Affordable Housing, US Department of Housing and Urban Development, and local elected officials came together to celebrate the grand opening of Northaven West. The festivities included a community picnic and music from The West Seattle Band.
Northaven West was built in partnership with Northaven Senior Housing and HumanGood Affordable Housing. The original Northaven property was developed under the Section 236 program 50+ years ago.  The new NHW building was built on the surface parking lot and brings 82 additional units of affordable housing for independent living seniors while offering amenities including an outdoor garden area, library, and campus-wide wellness activities.
Those living at Northaven West enjoy walkable access to shopping, medical facilities, parks, and the Northgate Light Rail Station.