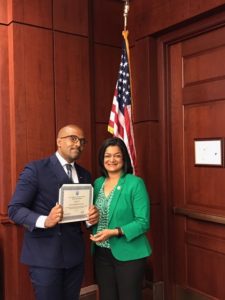 Beacon Development Group is excited to share that El Centro de la Raza's Plaza Roberto Maestas has been awarded the 2017 AIA/HUD Secretary's Housing and Community Design Award for Creating Community Connections. In addition, the project has received an honorable mention for the Affordable Housing Tax Credit Coalition's Charles L. Edson Tax Credit Excellence Awards in the Metropolitan/Urban category and a 2017 Award of Merit for Affordable Housing in PCBC's Golden Nugget Awards.
We are honored that Plaza Roberto Maestas has been recognized as one of the most outstanding affordable housing projects in the country.
Plaza Roberto Maestas is a landmark equitable transit-oriented development project in Beacon Hill, Seattle. The project incorporates the community's vision into a new mixed-use development in a rapidly gentrifying neighborhood. Completed in September 2016, Plaza Roberto Maestas consists of two six-story buildings that flank an outdoor plaza, which opens onto a Festival Street adjacent to a light rail station.
Through nearly eight years of planning with the community, El Centro de la Raza transformed a surfacing parking lot into a multicultural hub for the neighborhood that incorporates 112 units of affordable housing, local small business retail and office, community space, and a bilingual child development center.  Plaza Roberto Maestas directly addresses the urgent need for affordable housing and economic opportunity and is a model for community-inspired transit-oriented development. The project currently houses 291 individuals, including 133 children, and serves a diverse population that includes family, workforce, and senior residents.
Beacon Development Group served as El Centro de la Raza's development consultant on this innovative project, working alongside SMR Architects and Walsh Construction. Congratulations to El Centro de la Raza and the entire team on this inspiring project and well-deserved recognition!