Beacon has a long track record of working with clients to create more affordable housing, both in new construction and in the repositioning of older assets, thereby extending a building's affordability and useful life. There are typically a host of financial tools available to do this in WA State – from Low-Income Housing Tax Credits (LIHTCs) to State and local dollars such as the Seattle Housing Levy. But over the last several years many of these, especially at the State level, have been under constant threat.
Yet the need for affordable housing keeps growing. As a result, Beacon has worked hard on behalf of clients to turn over every rock for new funding. Two recent examples of projects that utilized groundbreaking "first of its kind" financing in Washington State are Yakima Family Housing in Yakima and Hilltop House in Seattle.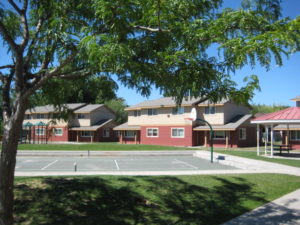 Yakima Family Housing with the Yakima Housing Authority (YHA) was completed in late 2014 and was the one of the first HUD Rental Assistance Demonstration (RAD)-funded projects in WA State. Beacon and YHA worked together to secure the award from HUD and then packaged it with 9% LIHTCs to refinance and renovate 150 units of scattered-site public housing across the City of Yakima. Beacon also served as construction manager, working with YHA to oversee the complex process of tenant relocation and renovation, while ensuring minimal disruption to families and maintaining the tight timeline for LIHTC delivery. Partners on this project include Raymond James, Walker Construction Co., and ZBA Architecture. Kantor, Taylor, Nelson, Evatt & Decina PC provided legal services.
In May of this year Beacon also started construction on Hilltop House Apartments in the First Hill neighborhood of Seattle. On behalf of this 124-unit non-profit-owned senior project, Beacon secured one of only twelve HUD SPRAC (Senior Preservation Rental Assistance Contract) awards in the United States. Working with CBRE Group, Inc. through its FHA lending program, this unique financing was leveraged to retire existing HUD 202 and Flexible Subsidy loans so that a new permanent FHA 221(d)(4) loan could be used to extensively rehabilitate the property and prevent displacement of low-income seniors. In addition to CBRE, partners on this project include SMR Architects and Walsh Construction Company. Kantor, Taylor, Nelson, Evatt & Decina PC provided legal services.
According to Muriel Cashdollar, Board President of Hilltop House, "Beacon Development has worked tirelessly to help Hilltop House refinance our HUD mortgage, find an architect and a contractor, and manage the entire process.  We could not have accomplished our goals without their significant help.  Beacon's experience has made our current construction possible!"
Together these projects represent nearly 275 affordable homes that would not have been preserved without these unique and creative approaches to affordable housing development. Together with our clients, Beacon strives to always secure the right financing for the needs of your project and your tenants.