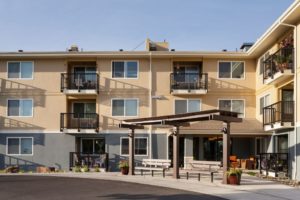 Beacon is excited to announce the grand re-opening of Three Rivers Village, located in Richland, WA. Three Rivers is an affordable housing community owned by American Baptist Homes of the West (ABHOW) and developed with Beacon for seniors and the disabled earning up to 30%, 40%, and 50% of area median income.
ABHOW purchased Three Rivers in 2010 when the previous owners wanted to exit their HUD program, thus preventing a conversion to market rate and displacement of senior and disabled residents. The renovation included the modernization of apartment kitchens and bathrooms, the common area dining room and significant site upgrades. A new expanded manager's office and meeting room, administration work offices, a wellness room and reconfigured entries were added as new construction. The building remained occupied during the renovation so rigorous steps were taken to lessen the impact on residents, many of whom were frail and elderly. The building entered into a 20-year HUD Section 8 Housing Assistance Payment Contract extension as part of the acquisition by ABHOW.   Capital funding was provided by the National Equity Fund, which purchased Low-Income Housing Tax Credits awarded by the Washington State Housing Finance Commission.  Acquisition funding and long term debt was provided by Washington Community Reinvestment Association.
With ZBA Architecture as the architect and Walker Construction, Inc. as the GC on this project, Three Rivers Village was completed this spring.  The grand re-opening ceremony took place on site in June and was attended by residents, community leaders, funders and members of the development team. Many people gathered to view and honor the success of the development and the preservation of such an important community asset for the City of Richland. Since many of the seniors at Three Rivers Village love birds, Beacon welcomed guests back into their newly renovated apartments by donating birdhouses and bird-feeders to the property so residents can relax and watch the birds in their newly improved exterior gathering spaces.