< BACK
Featured Projects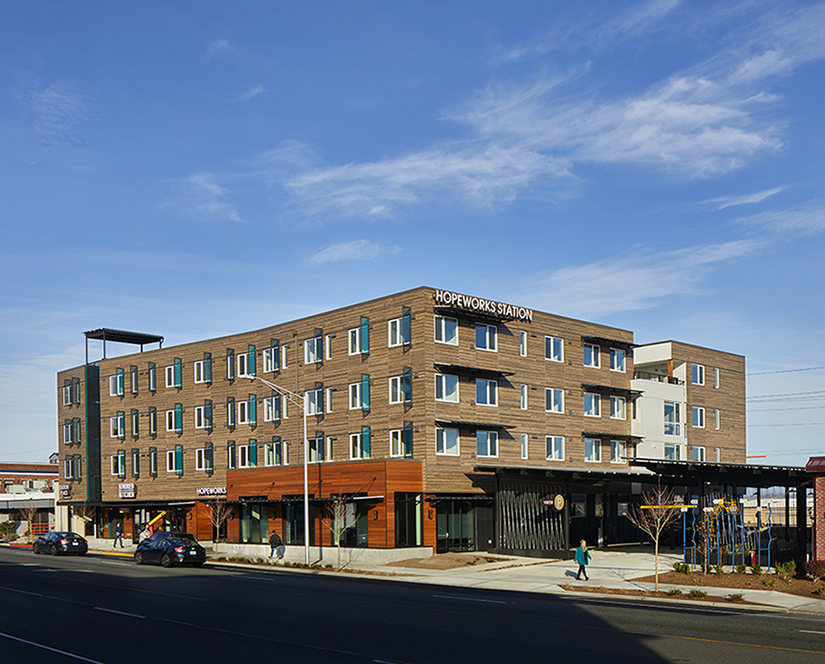 HopeWorks Station II
HopeWorks and Housing Hope

Family Housing

Special Needs

Sustainable Buildings

Urban/Mixed Use
Address: 3315 Broadway, Everett WA
Completion Date: 2019
Funding Sources: 9% LIHTC, WA State Housing Turst Fund, City of Everett, Snohomish County, Federal Home Loan Bank, New Market Tax Credits, Social Investor Financing, Capital Campaign
Population Served: Low income individuals and families earning up to 30% and 50% AMI including homeless youth and homeless veterans
Total Budget: $30,000,000
Green Certification: Net Zero, ESDS, International Living Futures Institute's Living Building Challenge Demonstration project
Contractor: Kirtley-Cole
Architect: GGLO and Dykeman Architects
Housing Hope and HopeWorks Social Enterprises are developing the innovative HopeWorks Station II project within the Everett Station District neighborhood near downtown Everett, at the 3300 block of Broadway in Everett. This new Transit Oriented development will provide commercial space designed for future social enterprise business growth as well as affordable housing dedicated to homeless and very low income households seeking employment training, jobs and access to career pathways.

The residential portion of the project will consist of 65 apartments in studios, one bedrooms, and two bedrooms. The ground floor and mezzanine will be comprised of space devoted to social enterprises including a culinary food service program called FoodWorks, a retail training center with a food store and bakery, a culinary training facility, a youth career office and space for volunteers and other partnerships.

HopeWorks Station will provide the neighborhood and the city with a Workforce Development Center aligned with affordable housing and designed to deliver career pathways for homeless and at‐risk populations. This will put participants on pathways out of poverty and toward income progression.